I have been making music with Junius, Marcin and Michael for many years now. There's this wonderfully organic "thing" that occurs when you play with folk regularly. I love that… and them. They are full of grace.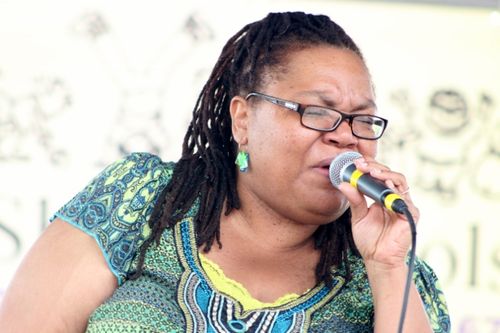 Lucy Smith was born and raised on the Southside of Chicago. As leader/arranger for the Lucy Smith Quartet/Quintet and as singer/songwriter for the jazz-infused Passing for Normal/Swag, Lucy has led a myriad of musical combinations exploring the worlds of traditional jazz, blues, gospel and other popular music.  Inspired to make her passion her life, Lucy completed vocal performance and jazz studies under the tutelage of pianist and jazz vocalist Patricia Barber, and trumpeter Orbert Davis.  She's currently the music director for Chicago's Fourth Presbyterian's "Jazz at Four" service where she creates a new jazz infused paradigm for worship while rearranging centuries old hymns and keeping alive the legacy of sacred jazz music. Her other music director work includes projects at the Park West Theatre, Goodman Theatre and  at Steppenwolf Theatre where she shared the stage with blues legend Koko Taylor and others. Lucy has composed and performed music for the feature film Hannah Free and the documentary Woke Up Black.  She makes music with many musicians who have Chicago roots, including Ernest Dawkins, Joshua Ramos and Greg Ward. Lucy was lead vocalist for the Center for Black Music Research's Stop-Time Ensemble and the Concord Orchestra.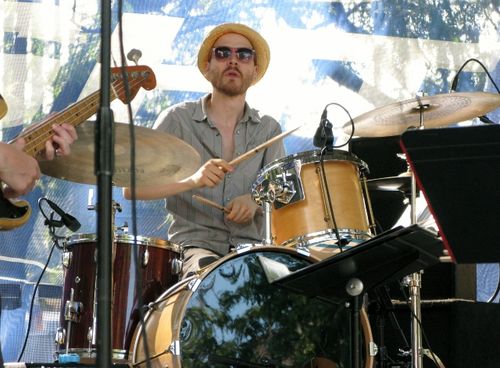 Michael Caskey (aka Bunny Patootie) hails from rural Southwestern Michigan. Graduating Magna Cum Laude from Western Michigan University's school of music in 1999, Michael has performed with artists as diverse as Chuck Mangione, Koko Taylor, Toni Tennille, Danilo Perez, Marvin Hamlisch, The Heritage Blues Orchestra and John Sinclair. Currently, Michael is a member of Eastern Blok, a pan-cultural ensemble that performs and presents master classes throughout the United States (including Princeton, Cornell, Carnegie Mellon, and University of Michigan among others). He plays with numerous Chicago artists including (but not limited to) Grazyna Auguscik, Hood Smoke, Leslie Hunt, and The Claudettes. A DownBeat jazz magazine award winner and five-time Detroit Music Award recipient, Michael has performed for audiences throughout the United States, Canada, Mexico, Poland, France, Germany, Denmark, and Belgium. At Columbia College in Chicago, Michael coordinates the dance department's accompanist program and teaches Music and Rhythm in Dance. He has also collaborated with Chicago dance companies, composing and producing original sound scores for Hedwig Dances, Lucky Plush Productions, Zephyr Dance, Same Planet Different World, Pete Carpenter and members of Mad Shak.
Marcin Fahmy, piano & keyboards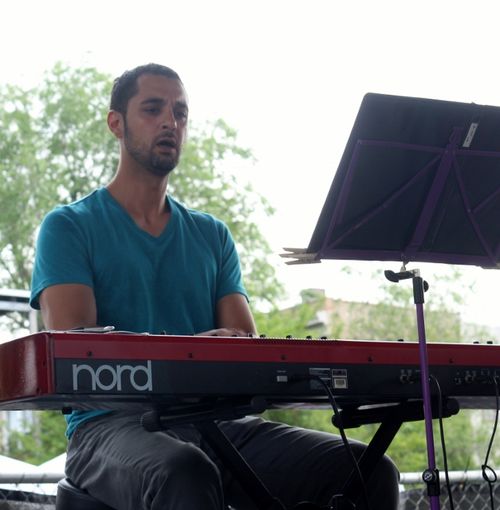 Originally from Krakow, Poland, Marcin Fahmy is a graduate of Karlowicz Music School and DePaul University. While still in high school, Marcin was one of only two pianists in the country chosen to play in the Grammy All-American Jazz Ensembles, joining an elite group of musicians in a series of concerts and recordings in New York City. This event gave him the opportunity to work with artists such as Wynton Marsalis, Jon Faddis and Chick Corea. He was also invited to perform at the 1997 Grammy Awards and many of its accompanying events. Marcin has shared the stage with, Gary Peacock, Peter Erskine, Bill Evans, Dick Oatts, Nicholas Payton, Koko Taylor and Kenny Werner. He is currently one of the most sought after pianists performing in Chicago.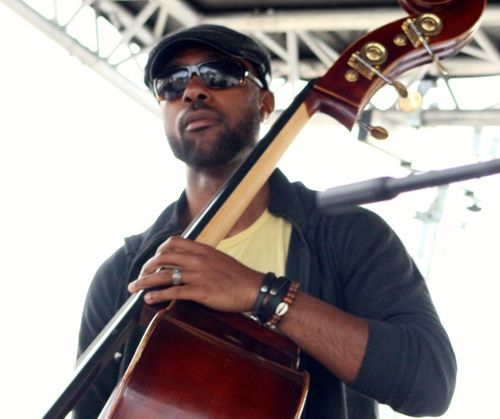 Junius Paul, born and raised in the Chicago area and a graduate of St. Xavier University in Chicago, is known internationally for his passion and skill as a performer, composer, sideman and bandleader. Junius is well-established in many musical genres, ranging from jazz to hip-hop, house music, funk, classical and gospel, and has shared the stage with such artists as Wynton Marsalis, Curtis Fuller, Donald Byrd, Fred Anderson, Roscoe Mitchell, Ernest Dawkins, Donald Harrison, Kahil El'Zabar, Hamiett Bluiett, Nona Hendryx, Corey Wilkes, KRS-One, Dee Alexander, Marcus Strickland and Gary Bartz to name a few. In addition to his many local and national television appearances, he has appeared on numerous audio and DVD recordings for many artists as well. Some of Junius' recent performances include the Umbria Winter & Summer Jazz Festivals (Umbria, Italy), Kuumba Festival (Toronto, Canada), Teatro Manzoni (Milan, Italy), the Sons d'hiver Festival (Paris, France) and the Made in Chicago Series (Poznan, Poland). Junius also serves as an adjunct music professor at Trinity Christian College.
 juniuspaul.com